QRZ Forums
QRZ Forums > Amateur Radio Technical Forums > Antennas, Feedlines, Towers & Rotors
---
Original question raised by myself:
I can't see that it makes much difference, but is there any deference which way the coax is connected to a J pole antenna. Is it better to have the centre of the coax connected to the main element or the stub?
I notice that most if not all J pole designs on the net have the centre of the coax connected to the main element, however when I refer to a 1977 ARRL antenna book it has it connected the other way.

Is there any difference?
---
Mike W0BTU commented:
Hello Peter,

I would explain more, but it's 3:15 AM here in Missouri.

Do a search for J-pole in the qrz.com forums. You'll find that it works, but it has a feedline radiation problem.
__________________
73, Mike
www.w0btu.com
---
W8JI commented:

Look at patterns at the bottom of this page:
http://www.w8ji.com/end-fed_vertical...ontal_zepp.htm

See exert below:

You'll see the feedline or mast grounds directly to what everyone assumes is a "zero voltage" point. This is the electrical equivalent of any J-pole with the coax connected in series with the feedpoint, and the shorter leg connected to the shield. The shield can be connected to any supporting mast with any change in results. Here is the resulting pattern:

Shorter leg to shield: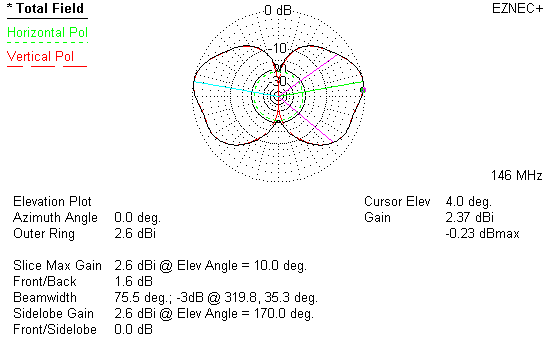 Longer leg to shield: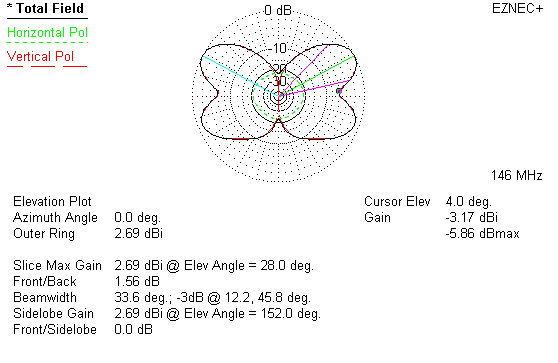 Notice the low-angle gain dropped about 5dB with just a simple reverse of feedline connections! If I didn't model the feedline, the model would never show this problem. In ALL cases, the SWR stays near 1:1, yet gain at low angles changes 5dB!